Information for garbage pickup, landfill and recycling can be found here.
Garbage
PLEASE NOTE: IF THE SCHEDULED GARBAGE/RECYCLING PICKUP FALLS ON A HOLIDAY - YOUR GARBAGE WILL BE PICKED UP THE FOLLOWING DAY
Waste Management Garbage and Recycling Schedule
Town of Neshkoro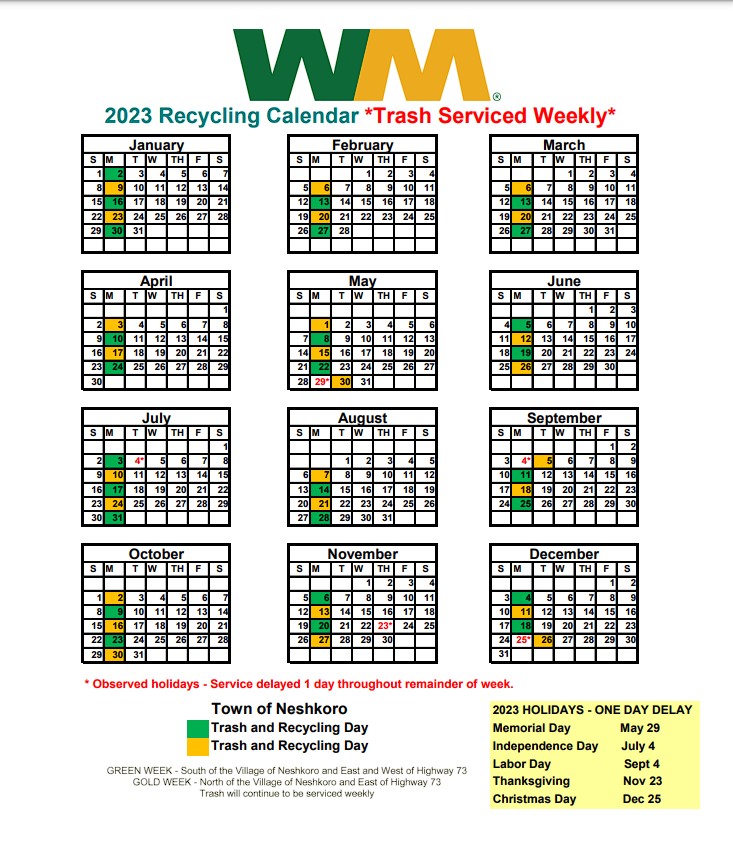 In an effort to increase efficiency and save costs, the Town of Neshkoro has contracted with Waste Management to utilize wheeled carts for the curbside disposal of garbage and recyclable materials.  Waste Management has provided 96-gallon garbage carts and 64-gallon recycling carts for this purpose.
Garbage pickup schedule remains the same as before, with a weekly pickup performed every Monday, except when that Monday is also a federal holiday. In that case, both garbage and recycling pickup will be completed the next day.
Recycling pickup is every other week. The Town of Neshkoro is divided into Green and Gold zones as indicated on the calendar.  On Green Weeks the area south of the Village of Neshkoro and East and West of Hwy 73 will be picked up.  On Gold Weeks the area North of the Village and East of Hwy 73 will be picked up.
Recycling and garbage pickup no longer happen at the same time. Garbage is picked up first and brought to the Berlin facility.  Recycling is collected later and brought to the Fond du Lac facility.  If you find your recycling has not been picked up yet and you are sure it is the right day for your pickup, just wait a while.
Garbage and recyclable materials must be in the carts, not in bags or piles beside the carts. While it is recommended that garbage is continued to be placed in bags before disposal, please do not put recyclables in plastic bags.
Carts must be at least 3 feet apart and at least 3 feet away from any other object (I.e., mailboxes). All carts should be placed at the road with the handles facing the house.  If you are having problems with slopes or the wind, simply rotate the cart a quarter-turn, placing the handles toward the wind.
Weight limit for both carts is 225 pounds

.
Landfill
You can reach Cheryl Milbrandt at 920-291-6029 or Monday thru Thursday at the Neshkoro Public Library from Noon until 4:00 pm at 920-293-4026.
The Landfill will be open every other Saturday from April 16th ---- November 12th
The hours open are (9:00 am --- 1:00 pm).  Permits are available at the Landfill and the Neshkoro Public Library.  (Refer to above for contact information).
Cost of $40.00 per permit.  Please bring correct amount as attendant will not be able to make change.  Checks should be made out to the Town of Neshkoro.
Again only yard and garden waste can be left at the landfill (leaves, branches, grass clipping).  If bagged the bags will be emptied at the landfill.
Please note we will have a LARGE ITEM DUMPSTER DAY available with the purchase of a landfill permit on June 25th, 2021.